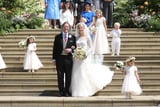 Lady Gabriella Windsor married Thomas Kingston at Windsor Castle on May 18 in front of some very stylish guests. That marks the third royal wedding at the venue in less than a year. Obviously, this called for an incredible wedding dress, and Lady Gabriella ran with Luisa Beccaria to create her custom look, since she's "been in love with the brand for a long time." According to a press release from the designer, her Valencienne ecru lace gown took four months to attain, and it's easy to see why – the veil alone is six meters long!
While it's not quite so obvious to the naked eye, the layers of organza and tulle are actually a subtle blush tint, overlaid with off-white lace and embroidery. But Lady Gabriella played up the pink tones with her posy, proving that, while her select silhouette is traditional, the details are completely original.
"I was so lucky to have my dreaming dress designed by Luisa Beccaria, She and her team are exceptional and I am thrilled with the stunning outcome of their workmanship, " Lady Gabriella stated.
If you can manage to get over the stunning veil that trailed the steps behind her( we still can't look away ), then zoom in on Lady Gabriella's Russian Fringe style diamond tiara, worn by her grandmother, the Princess of Greece, on her own special day. It's definitely a lot to take in – this is certainly one royal wedding dress for the books.
Related:
The Actual Cost of the Royals& apos; Most Famous Wedding Gowns
Read more: popsugar.com